【NOF AMERICA】 CORPORATION nofamerica PEG Lipid 衍生物 藥物傳輸 聚乙二醇 PEG 代理
NOF AMERICA 原廠網站連結
Click here
【NOF AMERICA】 CORPORATION  nofamerica  PEG Lipid PEG衍生物 藥物傳輸 
聚乙二醇 PEG Lipid 代理
NOF America Corporation成立於1988年,是NOF CORPORATION(NOF)在日本的子公司。
NOF公司的業務部門包括Oleo和特種化學品部門,功能性化學品和聚合物部門,
NOF America Corporation專注於藥物輸送產品(DDS開發部門),特種化學品(Oleo&Specialty Chemicals Division。),生命科學產品(生命科學產品部門)和北美特種聚合物。
京辰生科有限公司 
王小姐0906-860-657
colart0712@yahoo.com.tw
LineID:colart07122


Activated PEG for PEGylation
Overview
NOF has a long reputation for producing high-quality Activated PEGs, -the SUNBRIGHT® Series and high-quality single-molecule PEGs -the PUREBRIGHT® Series that possess the most suitable properties for the preparation of physiologically active drugs and biologics. Our SUNBRIGHT® Series and PUREBRIGHT® Series are characterized as extremely high-purity PEGs with a variety of functional groups. The products of this series are internationally recognized as optimal PEGylation drugs.
As illustrated in this figure, the application of Activated PEGs with various functional groups enables the introduction of PEG chains into drugs, enzymes, phospholipids, and other biologics. Covalent conjugation of hydrophobic macromolecules with Activated PEGs leads to the formation of macromolecular micelles (Polymer Micelles), which allow homogeneous dispersion of hydrophobic drugs in aqueous media. Furthermore, when PEGylated lipids are used as Liposomes or Lipid Nanoparticles, the aqueous corona adds stability for homogeneous dispersal of the LNP drug preparations encapsulating drugs within them.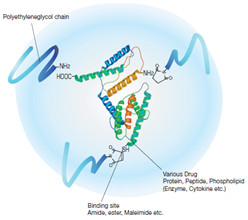 Currently, single-molecule PEGs -the PUREBRIGHT® Series have used in Antibody Drug Conjugates (ADC) drugs as a linker to increase their hydrophilicity.
PEGylation plays an important role in the stabilization of drugs' increased circulation time, reduction of their antigenicity, and decrease in drug dosage, besides augmenting the targeting ability via binding biologics onto their surfaces.
High-Purity mPEG-OH: Starting Material for Activated PEGs
NOF manufactures high-purity methoxy-PEG-OH characterized by the absence of contaminating impurities and narrow molecular weight distributions. These highly pure methoxy-PEG-OH have so far been used for various commercial PEGylated drugs, such as PEG-Interferon and PEG-GCSF.
CH3O(CH2CH2O)n-H
NOF CORPORATION is the sole worldwide patent holder of these high-purity mPEG-OH and all their derivatives. *Patent No.: JP3050228, US6455639, KR0358276
Our methoxy-PEG-OH has the advantage of extremely low diol contents relative to those of competitors' products. As shown in the following graphs, our methoxy-PEG-5000 contains remarkably low levels of diol as impurities, besides providing a narrower distribution of molecular weights in comparison with our competitors' products. Employment of our methoxy-PEG-OH as the starting materials yields higher purity and higher activity of Activated PEGs. We manufacture highly our methoxy-PEGs with molecular weights from 2kDa to 80kDa. 

About PEGylation
PEGylation technology is applied for biologics modifications including cytokines, therapeutic antibody fragments, interleukins, hormones, oligonucleotides, and other proteins and peptides.
PEGylation can be effective for :
Improving Bioavailability
Prolonging Blood Circulation
Maximizing Pharmacokinetics
Low-profile Immunogenicity
NOF provides high-performance activated PEGs for PEGylated drugs from the early development stage to commercial use with over 20 years of experience in manufacturing high-quality methoxy polyethylene glycol. As the starting material of activated PEGs for pharmaceuticals, our activated PEGs have a narrow polydispersity and low diol content with a wide range of molecular weights, from 2kDa to 80kDa.
PEGylation Service:
Please feel free to contact us if you need PEGylated drugs using NOF Activated PEGs, SUNBRIGHT® Series.
Analysis of PEG-ALD-Insulin by SDS-PAGE with Coomassie brilliant blue. Insulin was reacted with NOF PEG-ALD at 4°C. The PEGylated insulin was purified on the Q Sepharose Fast Flow column.

 

lane M molecular weight markers
lane 1 Insulin
lane 2 PEG(ME-050AL)-insulin eluate
lane 3 PEG(ME-100AL)-insulin eluate
lane 4 PEG(ME-200AL)-insulin eluate
lane 5 PEG(ME-300AL)-insulin eluate
Coupling of PEG derivatives to Proteins: examples of conditions 
Coupling of PEG-NHS derivatives to protein amines (PEG-NHS + Protein-NH 2) Conditions 1: 50 mM phosphate buffer (pH 7.2), 4℃, 6 hrs *1)
Conditions 2: Borate-phosphate buffer (pH 8.0), 25℃, 2 hrs *2)
Coupling of PEG-Aldehyde derivatives to the NH 2 group of proteins (PEG-Ald + Protein-NH 2)
Conditions : sodium cyanoborohydride (10 eq . .), 4 deg C, 20 hrs *3)
Coupling of PEG-Maleimide derivatives to the SH group of proteins (PEG-Maleimide + Protein-SH)
Conditions: 100 mM phosphate buffer (pH 6.5), 4 deg C, 4 hrs
Coupling of PEG-NH 2 derivatives to the COOH group of proteins (PEG-NH 2 + Protein-COOH)
Conditions: 50mM phosphate buffer (pH 7.2), WSC (2 eq.), 4 deg C, 10 hrs
Coupling of PEG-p-Nitrophenyloxycarbonyl derivatives to the NH 2 group of proteins (PEG-NP + Protein-NH 2)
Conditions: borate-phosphate buffer (pH 8.0-8.3), r.t, overnight *2)
References:
*1) Abuchowski, A., et al. (1984) Cancer Biochem. Biophys. 7, 175.
*2) Sartore, L., et al. (1991) Appl. Biochem. Biotechnol. 27, 45
*3) US 5,824,784
NOF has summarized the protocol for PEGylation of proteins and peptides including purification and characterization methods. Please feel free to contact us: info@nofamerica.com
Application Chart for PEG Derivatives
We supply different series of PEG derivatives with various versatile functional groups.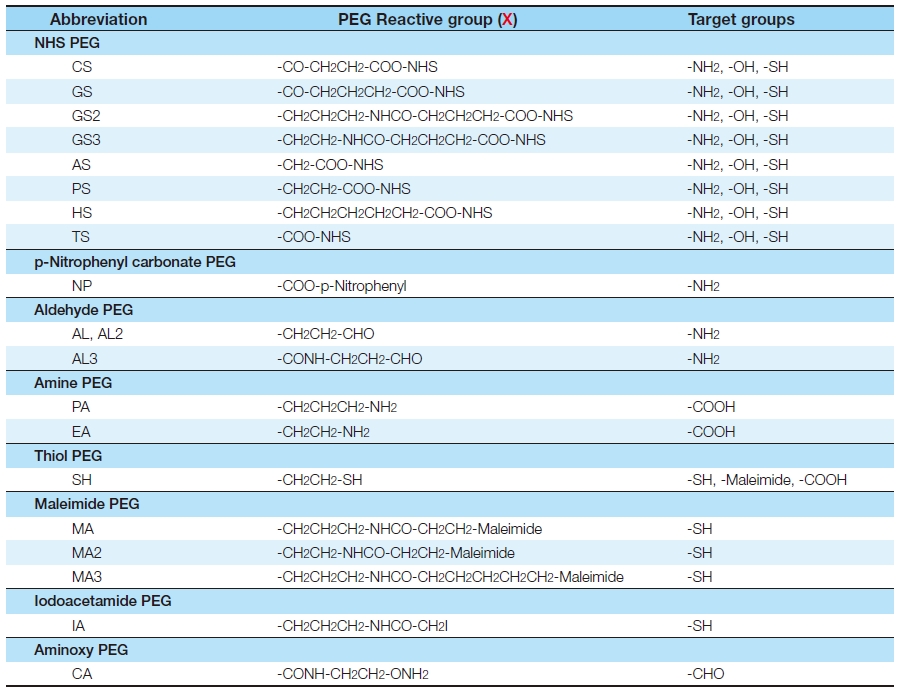 Capabilities
cGMP Manufacturing Facilities
NOF Activated PEGs, SUNBRIGHT® series are produced in facilities using state-of-the-art technology, operated under cGMP. The cGMP facilities are capable of producing small to large batch sizes, using proprietary know-how with scale-up procedures, depending on customers' needs.
These cGMP facilities have been audited by pharmaceutical companies throughout the world. NOF receives a consistently high reputation from our customers.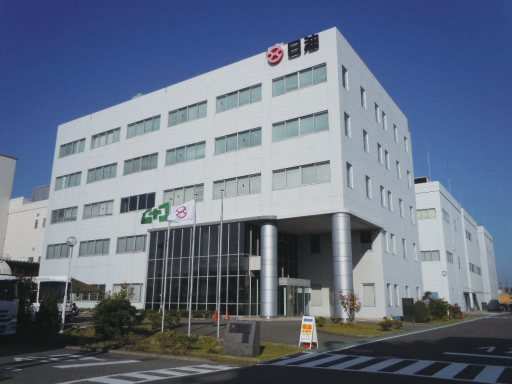 Research & Development
Our R&D facility was opened in December 2005. This allows us to continue our development of novel activated PEGs and new technologies for PEGylation.
   
Analytical Technologies 
 
NOF has more than 30 years of history for manufacturing of high-quality mPEGs and Activated PEGs. These experiences endow NOF with a thorough knowledge of PEGs and considerable achievement in the analysis of Activated PEGs. We also invented innovative analytical methods for assaying the purity of activated PEGs and for determining impurity levels.
Custom Manufacturing
NOF has over 30 years of experience in supplying high-quality methoxy polyethylene glycol (mPEG) to pharmaceutical markets. The highest quality mPEG is our starting material of PEG derivatives, patented through our proprietary technology.
Based on our extensive range of technological know-how and capabilities, NOF offers custom manufacturing from early stage development to commercial scale. 
 
Please feel free to contact us: info@nofamerica.com